Modbus measuring instruments for Volt & Ampere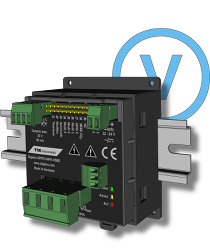 Unique, innovative, and multifunctional: the measuring instruments Digalox® DPM72-MP+ and DPM72-MPN+ for voltage and ampere are characterised by extensive functions and configurability. A variety of measurement modes (volt AC/DC, ampere AC/DC, frequency, power, cos phi) are supported. The Modbus interface ensures comfortable individual configuration of the devices as well as transfer of measuring data in real time. Therefore, the DPM72 measuring instruments are versatile and suitable for a wide range of industrial applications. The multifunctional measuring devices are particularly in demand in the area of monitoring of machine and operating data and especially suitable for retrofitting, as they as they can be easily integrated into existing systems thanks to the RS485-modbus-protocol and are able to easily communicate with Modbus devices from other manufacturers. Additionally, they can be attached to DIN rails as well as to other backgrounds through corresponding boreholes in the housing.
Extensive adaptability via software
Using the "Digalox® Manager" configuration software, the measuring devices can be set up individually. Once set up, the DPM72 will transmit your measuring data reliably and in real time.


Switching outputs
As individually adjustable threshold values ​​are reached, two galvanically isolated alarm outputs enable the device to trigger an alarm as well as to perform switch-on or switch-off operations.


Modbus interface
The RS485 Modbus interface of the DPM72 measuring devices ensures both configuration and transmission of all measured values. The RS485 Modbus protocol corresponds to the established industrial standard, which means that the DPM72 measuring devices with Modbus interface can be universally combined with existing Modbus devices from other manufacturers. Above all, this enables older or technically obsolete machines to be modernised easily (retrofitting) without having to replace them, which can be expensive and time-consuming.
Specification
DPM72-MP+-RS485-DIN

DPM72-MPN+-RS485-DIN
Supply
12 - 24 V AC/DC ± 10 %
12 - 24 V AC/DC ± 10 %
Power consumption
max. 2.4 W
max. 2.4 W
Measuring range voltage
±500 V AC/DC
±500 V AC/DC
Accuracy voltage
±1 % true RMS
±1 % true RMS
Internal resistance voltage
2.6 MΩ
2.6 MΩ
Measuring range ampere
AC 0 - 10 A
AC 5 A for current transformer
DC ±10 A
±333 mV AC/DC shunt
Accuracy ampere
±1 % true RMS
±1 % true RMS
Internal resistance ampere
5 mΩ
20 kΩ
Measuring range frequency
10 - 500 Hz
10 - 500 Hz
Accuracy frequency
±0.1 Hz
±0.1 Hz
Recording of measurement
36 seconds to 14 days,
180 internal memory locations
36 seconds to 14 days,
180 internal memory locations
Alarm outputs
2 optocouple outputs max. 30 V, 50 mA
2 optocouple outputs max. 30 V, 50 mA
Interface
RS485 Modbus RTU protocol
RS485 Modbus RTU protocol
Operation temperature
0 °C to +50 °C
0 °C to +50 °C
Storage temperature
-20 °C to +70 °C
-20 °C to +70 °C
Protection front
IP65 when mounted with gasket (separately available)
IP65 when mounted with gasket (separately available)
Products in the TDE shop
DPM72-MP+-RS485-DIN in the TDE shop
DPM72-MPN+-RS485-DIN in the TDE shop