Communication center, web server and data logger for coupling XBEE radio network, Modbus RS485 and Industrial Ethernet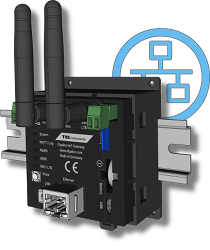 The Digalox­® Industrial IoT Gateway acts as an XBEE central unit and manages communication in larger XBEE networks (> 30 participants). A second XBEE Gateway can be provided simultaneously for fail-safety purposes (hot standby). The Gateway communicates with closed layers such as Modbus TCP, MQTT or HTTP via the industrial-grade Ethernet connection with functional mass. Furthermore, the Gateway features a micro SD card slot for data logging or the storage of web applications. When using a CR2016 lithium battery, the Gateway is able to retain date and time even in the event of prolonged inactivity or power failures, thus ensuring correct data logging.
MQTT publish/subscribe

The Gateway transmits measured values ​​and status information from the XBEE or fieldbus network via MQTT to an MQTT broker for further processing, e.g. in telemetry applications. Values ​​or switching states can be changed via MQTT and transmitted to devices in the XBEE or fieldbus network using the return channel.
Modbus RTU and modbus TCP functionality
The Gateway can connect to other devices as a Modbus RTU master or slave via the RS485 interface and as a Modbus TCP master or slave via the Ethernet connection. A Modbus RTU network can therefore also be coupled to the radio network, for example.
Integrated webserver

With the integrated web server, all administrational tasks can be carried out conveniently via the browser. In addition, a customer-specific web application can be stored on the SD card in order to access the data of the SD card logger without a server.
Specification
Digalox® Industrial IoT Gateway

Supply
12 - 24 V AC/DC ± 10 %
Power consumption
max. 1.2 W
Fieldbus RS485
Modbus RTU
Digalox® bus
Radio interface 1

XBEE 2.4 GHz mesh network

Radio interface 2
(optional)

BLE 2.4 GHz
802.15.4 2.4 GHz
DigiMesh 2.4 GHz
WiFi 2.4 GHz
LTE NB-IoT

Operation temperature
0 °C to +50 °C
Storage temperature
-20 °C to +70 °C
Protection
IP20