89,83 EUR
excl. VAT, excl. transport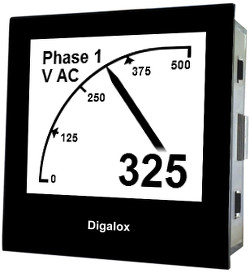 Graphical DIN panel meter for voltage and ampere with USB interface.

Graphical measuring instrument which unites the benefits of an analogue display with the accuracy of a digital instrument. The common measure modes (volt AC/DC, ampere, frequency and 5A current transformer) are supported. Scale-endpoint of the indicator as well as scaling of the analogue signal and current transformer measurement can be adjusted freely via the DIP-switch, alternatively there is an option for automatic adaption of the scale-endpoint. The unit can be switched between volt and ampere measurement via an external switch. Minimum and maximum values are recorded and can be displayed optionally using an external switch. Measured values are recorded over a timespan of three minutes up to 14 days. The timebase as well as the display of the measuring history can be activated by an external switch. The following parameters can be adjusted using the USB-Software: Scale-endpoint, scale-caption, display-style (pointer, tachometer, bargraph, and more), splash display, thresholds for alarm output, hysteresis, and more. Recorded measurement values can be read and a continuous transmission of the actual measuring value can be enabled. Using the software, values can be viewed and exported as CSV.
Features
Graphic display 16 grey levels with white backlight
Pointer and digital display
USB interface, galvanically isolated
Adjustable scale-endpoint
Recording of measurement over up to 14 days
Alarm outputs with adjustable thresholds, galvanically isolated
User splash display
Different display styles, e.g. tachometer, bargraph, timebased view
Transmission of measure value
Integration of measure value
Supply 10-24V AC/DC, galvanically isolated
Accuracy 1% true RMS
Windows software for individual configuration and measure value recording
Specification
Supply
10-24V AC/DC, galvanically isolated
Display
LCD graphic display 192x160 pixels
Measuring range voltage
AC 0-500V
DC +/- 500V

Accuracy voltage
1%
Measuring range ampere
AC 0-10A
AC 5A for current transformer
DC +/- 10A
Accuracy ampere
1%
Measuring range frequency
10-500Hz
Accuracy frequency
0,1Hz
Recording of measurement
3 min to 14 days
Alarm outputs
2 optocouple outputs max. 30V, 50mA
Operating temperature
0°C to +50°C
Storage temperature
-20°C to +70°C
Front panel
72 mm x 72 mm
Panel cut out
68 mm x 68 mm
Fixation
Bracket
Protection front
IP65
Manufacturer
TDE Instruments

Order information
Digalox DPM72-AVP Graphical DIN panel meter for voltage and ampere with USB interface.